~1860s Bathing Costumes ~
And a few from a slightly later date.
Fabrics & Patterns:
Wool Flannel from B. Black & Sons
~
Web/Book Sources & Other Information:
Swimsuits: Compiled by Vicki Betts
"Bathing Dresses." Citizens' Companion 6 no. 3 (August-September 1999): 38. [taken
from Peterson's Magazine, August 1856].
Bosker, Gideon and Lena Lencek. Making Waves: Swimsuits & the Undressing of
America. San Francisco: Chronicle Books, 1988.
Harris, Kristina. "The Shaping of Bathing Beauties." Lady's Gallery 1 no.2 (1993): 20-28.
Johns, Maxine James. "Women's Functional Swimwear, 1860-1920." Ph.D. dissertation,
Iowa State University, 1997.
Johns, Maxine James and Jane Farrell-Beck. "'Cut Out the Sleeves': Nineteenth-Century
U.S. Women Swimmers and Their Attire." Dress 28 (2001): 53-63.
Kidwell, Claudia. Women's Bathing and Swimming Costume in the United States.
United States National Museum Bulletin, no. 250. Washington, DC: Smithsonian
Institution Press, 1968.
Websites:
http://www.geocities.com/motozulli/index.html (Look on the right hand side of the page. There isn't much information yet, but it's worth taking a look.)
http://www.myrtle-avenue.com/bathing.html -Nice image of men and women's bathing costumes.
http://dressreform.tripod.com/construction.html -I know this is a website for Dress Reform, but I thought it might help with construction.
Discussion about bathing costumes on the forums:
AC board: http://www.authentic-campaigner.com/forum/showthread.php?t=12490
Civil War Reenactors (Szabo's forum): http://www.cwreenactors.com/dcforum/civilian/4688.html
~
Period Images & Original Garments: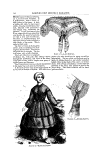 1858 - Harper's New Monthly Magazine, June
From Cornell's Making of America website.
~

1863 (Not sure if this is Godey's or Peterson's.)
Notice the differences between the image from 1863 and the image from 1864.

1864 - Godey's, July
Godey's Description:
Bathing Dresses. Godey's (July, 1864):
Fig. 1: Turkish pants of gray-and-white-striped material fastened at ankle with elastic cord. Paletot dress of dark blue and black; oil-silk hat with scarlet binding. Fig. 2: Suit of pearl-colored flannel trimmed with dark blue flannel; cap of oil-silk trimmed with dark blue flannel. Fig 3: Suit of black cloth bound in scarlet flannel; cap trimmed with black braid and a long black tassel. Fig. 4: Suit of scarlet flannel trimmed with bands of black braid; hat is straw with scarlet braid.
~
Found on Karen Augusta's Antique website:
Lady's Bathing Costume, Late 1860s
Materials: Indigo-dyed fulled wool, maroon wool trim tape, four gutta-percha buttons, cotton casing, elastic.
Provenance: Bathing costume was purchased from Doris Langley Moore (legendary British fashion historian) by an important American collector. She collected American and European clothing during the decades of the 1940s through 1980s.
Condition: Excellent. Stitching is loose in a couple places, very minor. A woven plaid cotton belt is included; I believe this is a later addition to the costume.
Measurements: B, 40"; W, 38"; H, 55"; L, 46".
Comments: A home made and utterly charming summer bathing costume. An exaggerated body shape, van-dyke points trimmed in red and crude stitching all lend a folk art flavor to this home made costume. This mid 19th century lady's bathing costume is very rare. Most museums with important fashion collections won't have one.
~
Bathing ensemble, ca. 1870
American
Beige-and-brown printed striped wool with brown-and-red printed wool bands with Greek-key motif; L. at center back: Dress 49 1/4 in. (125.1 cm), Bloomers 38 in. (96.5 cm)
Gift of The New York Historical Society, 1979 (1979.346.18a,b)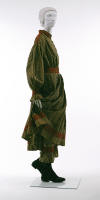 ~
These actually aren't bathing costumes, but they are similar so I thought I would add them, especially since it is so rare to find CdVs of bathing costumes. Both images look like they are late war or perhaps post. I do not know for sure.
Note: This page was created for the use of my friend and I as we research bathing costumes for the purpose of accurately reproducing a bathing costume for ourselves.