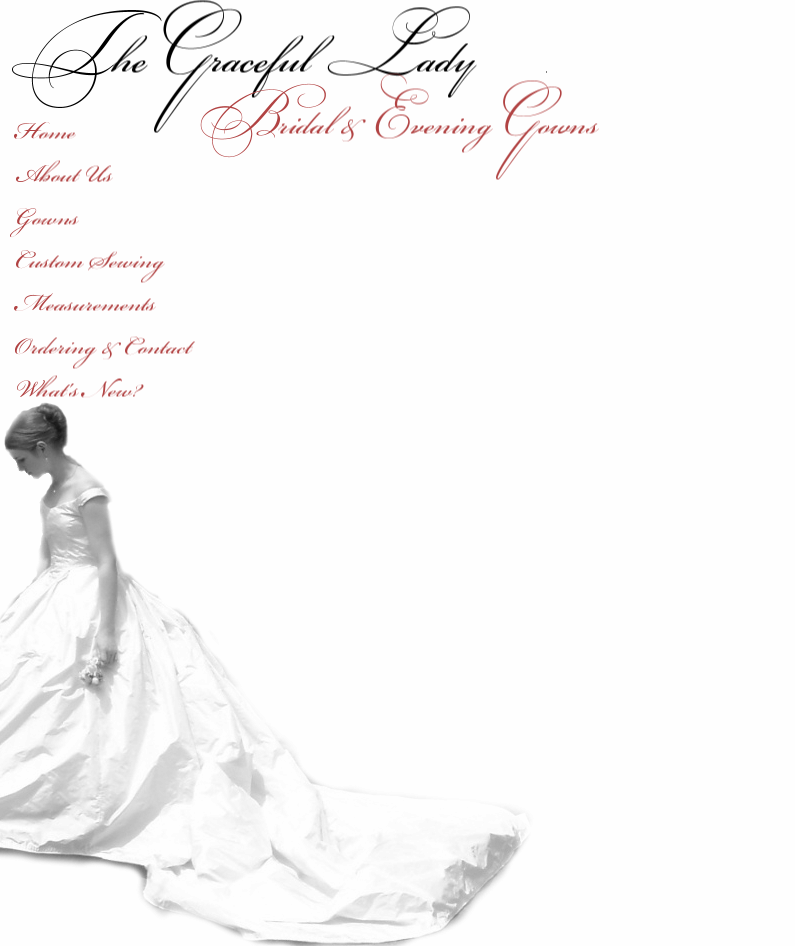 Ordering & Contact
Custom orders require at least 12 weeks from start to finish. If you contact me after this date to order, it will be considered a rush order. All rush orders require an additional 25% added onto the total cost of the dress. (ex. Dress price: $1200.00 + 25% rush order ($300.00) = $1500.00)

Please note that I require the information listed below 10 weeks in advance. If I do not have this information 10 weeks prior to your wedding date, I will consider it a rush order.

What I need from you:

-Your measurements. If you do not have anyone to help you take your measurements, find a seamstress in your area who can take them for you. Please be as accurate as possible. It never hurts to re-measure two or three times!

-Please print out the Design Agreement form, sign it and send to me (please contact me for address).

-50% down payment is required on all orders.

-Please be sure to make a note of your fabric choice in the Design Agreement so that I have enough time to order the fabric if I do not already have it in stock.
Payment:
I take checks, money order, or PayPal (an additional fee may be added if you decide to pay using this method). Make checks out to Anna Allen. Please allow time for checks to clear.
Returns:
Custom made clothing are not returnable. Non-custom made clothing may be returned postage paid if not worn and in same condition when shipped. Returnable items must be returned immediately (within 30 days). Refunds for returnable items will be made minus shipping and handling charges. There is a $25.00 fee for returned checks.
Shipping and handling:
Shipping and handling costs will be calculated when item is ready to be shipped. You are responsible for all shipping and handling costs.
This must be signed and returned with initial payment before I can start on the garment.