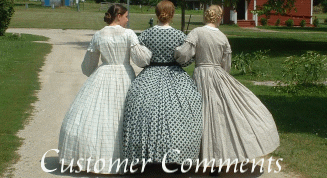 Here are a few comments I've received from previous customers:
Dear Anna,
Thanks so much for the paletot! It turned out beautifully, with excellent
workmanship, design, and fit... I was amazed that you were so able to realize the project in a way that matched so closely with the style we talked about, while adding your own personal touches and details (the simple but lovely linear pattern of the quilted silk lining, for example, is a work of art in its own respect). The velvet and silk are sublime, and all of the sewing and construction is top-notch. This made an excellent Christmas present for Kara... she was so delighted and surprised. If anyone ever happens to ask me who is the best seamstress for Civil War era women's clothing, I will say "Anna Allen" without hesitation. Every time we have ordered with you, we have been pleased with your careful attention to accuracy and your eye for period styles, materials, and colors. Best of all, you have the friendliness, helpfulness, and prompt communication that many other quality seamstresses in your area of specialty seem to lack.
Thanks once again. -- Ryan from MI
---
It's perfect!!!!!! I am just so very pleased with the way it turned out!
Thank you so very much, Anna! -- Candace from IN
---

I am just absolutely blown away. The dress is beautiful and it fits
perfectly!!! And you were so fast too! I will send pictures from Fort Granger so you can see. I am almost afraid to wear it for its intended purpose! It is
just too pretty!! Thank you so much!!! I have spread good word about you and will remember you for the future. :)
-- Liz from TN
---
Anna, thank you so much. This is absolutely beautiful and it fits
perfectly. The quality of your work is terrific. Just wait til I show
everyone!
-- Terre from TX
---
I haven't had a chance to write, but I wanted to let you know that the dress is
gorgeous! I am so glad we went with the plum rather than the black ribbon. I was afraid the plum would be too bright for a "mature" woman but it isn't, and it and the "marijuana" buttons look great with my great grandmother's amethyst and pearl brooch. It must have taken me 10 minutes to find the watch pocket, it is soperfectly hidden in the pleats - for a minute I thought you had forgotten to include it!! Anyway, I will be sure to get pictures at the conference and send you some. It seems that most of the ladies there wear silk dresses, or those that don't have anything fancy wear cotton. I can't remember seeing anyone in wool which always struck me as strange since it's really cold there during this time of the year (OK, not as bad as Iowa, but still cold).
-- Polly from DE
---
The dress arrived and it's just exquisite! I couldn't be more thrilled and
I can't WAIT to wear it! And I'm so glad that I asked you to ship it to my office; the ladies all got to ooh and ah over it, and frankly were amazed that anyone makes dresses by hand anymore. Thank you SO much for what I know is going to be my favorite and most
complimented dress! (say, you don't happen to have anything else 'hanging
around' do you? :-) )
-- Linda from NH
---
The dress came today and it is GORGEOUS!!! As far as I can tell, I might have to
play with the shoulders to make sure that my chemise doesn't show (my chemise was
sewn so that it sits a little high), but other than that it fits perfectly!!!!!
Thank you so much for a well-made dress that I will treasure for years to come!!
--Sarah from MI
---
The dress has arrived and both Kate and I are truely delighted with it!!! It is a perfect fit. She can't wait to wear it next month. I will make sure I take photo's of her wearing it and send you some. I have ordered quite a few things from other people in the USA but none of them are as well made as the dress you have made for Kate.I look forward to ordering from you again in the future. once again thank you for making a lovely dress which I'm sure Kate will enjoying wearing. I must admit I'm a bit envious! She will really be the Belle of the Ball.
-- Jane and Kate from Australia
---

THANK YOU SOOOOO MUCH for the AWESOME hood!!! I LOVE IT!!! YOU ROCK!!!!!
Everyone loved it and I told them you made it! I'm going to send you the photos
in my next email. We had a "Holiday" (Christmas/Yuletide) event at Harpers Ferry
in the beginning of December. That's where the photos are from.
-- Stacy from PA
---
The bonnet arrived and it is lovely. It's hard to imagine the perspective or dimensions when one sees a photo. I was actually sort of worried it would be monstrously tall and cartoonish. It is just what I needed. Your workmanship is excellent and the sheen of the brown silk is seems to have depth upon depth. One just can't substitute cotton and say its the same as silk can they??? -- Becky from OR
---
The dress you made for me is absolutely divine. I feel like a queen
when I wear it. It was a real hit at Shaker Village!!!!! -- K. from Ill

---
Dear Anna, I completely forgot to mention that the bonnet arrived a little while ago. It's glorious! Some of the nicest millinery I've seen in person (don't tell Kara ;-} ). The little bias strip at the top is a beautiful detail, and the box-pleated bavolet is a nice touch. I'm ordering some nice trimmings from Glenna Jo Christen, and I'll make sure Kara sends some "final product" pictures that you might be able to use on your website to advertise your products! Thanks so much! (Sorry for all of the exclamation points, I'm simply really pleased with the product!) -- Ryan from MI
---
Hi Anna,
I can't remember if I emailed you to tell you that the dresses arrived or 
not.  Anyhow, they got here and they fit me like a glove.  I absolutely love 
them!  I am taking both of them to Tallassee this week-end.  They are so 
comfortable.  You do lovely work. -- Sharon from AL 
---
Dear Anna,

    I cannot thank you enough for all you did to make
my wedding day special!  Everyone LOVED my dress... I
felt like a princess, and couldn't have been happier!
I told everyone that I was wearing an Anna Allen
original, and ALL were impressed with the quality of
your work! -- Catie from Virginia 
--- 
Hi Anna, The dress arrived today, and it is just Gorgeous! You really did a fantastic job - the fit is perfect and the attention to detail and workmanship are too! I am soooo pleased! I can't wait for a chance to wear it! Thank you so much - I look forward to a chance to work with you again soon (I still want a one of your ball gowns - teehee). -- Jane from CA
---
Anna! I just received the box and I opened it this morning.... what a beautiful creation!!! It's so lovely, Anna, and the fabric is ten times more striking in person than it is on the monitor (not surprising)... what a deep, rich red! I can't wait to try it on... I'll let you know later today how it looks, and I shall definitely have someone take a picture! Thanks again !!!! -- Laura from WV
---
Hi Ms. Allen,

We received the dress, and WOW, it sure is beautiful. The color is
fantastic, the size is perfect, and my wife is so delighted. Thank you.
Merry Christmas -- David from AL
---
Dear Anna,

Just wanted to let you know that my ball gown came in today, it is gorgeous
I am very happy. I just tired it on it fits perfectly. I will definitely
recommend your work in the future. I will send pictures of me in it at the
ball. Have a Merry Christmas. Thank you so very much. -- Michelle from CA